Dr. Soumya Swaminathan
---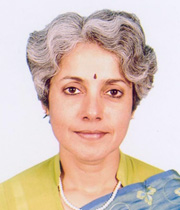 Dr. Soumya Swaminathan is currently Scientist G (Director Grade) in the Department of Clinical Research at the National Institute for Research in Tuberculosis (formerly the Tuberculosis Research Centre) in Chennai and leads the research program on TB/HIV. For the past two years, she served as Coordinator for Neglected Priorities Research at the Special Programme for Research and Training in Tropical Diseases (TDR) at the WHO, Geneva.
She is also Honorary Adjunct Professor of Medicine at Tufts University, USA. She holds an MBBS degree from the Armed Forces Medical College, Pune, an MD in Pediatrics from AIIMS, New Delhi and was a Fellow in Pediatric Pulmonology from the Childrens' Hospital of Los Angeles USA. She is a fellow of the National Academy of Medical Sciences, New Delhi and the Indian Academy of Pediatrics and serves on many national and international scientific committees.
She holds the honour of having won the President's Gold medal for best academic performance and the Kalinga Trophy for best all-round outgoing student performance during her under graduation. She is currently serving as a member of the Editorial Board of the prestigious international journal Clinical Infectious Diseases and is a peer reviewer for several more including the Indian Journal of Pediatrics, Indian Pediatrics, Journal of Tropical Pediatrics, Indian Journal of Medical Research, International Journal of TB and Lung Diseases, Journal of AIDS and the BMC group of publications.
She has over 140 publications in peer-reviewed journals and 13 book chapters to her credit on various topics in the field of pediatrics, tuberculosis and HIV. She is also providing ongoing research support to National AIDS Control Program, the Department of Biotechnology and the Indian Council of Medical Research. Her research group is well funded with several grants from national funding agencies as well as the National Institutes of Health, USA.