Dr. Priya Abraham
---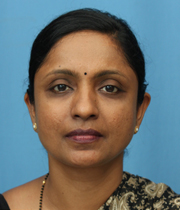 Professor Priya Abraham was the former head of the department of Clinical Virology, at Christian Medical College, Vellore,
Her main area of research is with blood borne hepatitis viruses. She was funded by the British Council on a Higher Education Links programme for a project entitled "Implications of paediatric gastrointestinal and hepatic infections in public health policy and practice in south India. She has also received funding from DBT to study the genetic basis of host immune responses to hepatitis B virus infections and chronic liver disease. ICMR has funded an ongoing study looking at emerging drug resistant hepatitis B virus. For her doctoral studies, she worked with macaques to study the potential pathogenic role of HGV and TT viruses.
Dr. Abraham has a long term interest in hepatitis B vaccines - testing efficacy of different vaccine formulations, efficacy of alternative vaccination schedules in immuno-suppressed individuals and studying the role of immuno-potentiating agents in vaccine response. She has also looked at the role of HLA types in non-response to the HBV vaccine.
More recently, in the field of human papilloma viruses, she has investigated the role of HPV PCR in screening for cervical cancer in a DBT-NIH funded study. Subsequently she was funded to study the role of HPV markers in prognosis of cervical cancer and also the molecular epidemiology of HPV in India and its variants. She is part of the Indian HPV working group. She is currently working on HPV infection in HIV seropositive individuals (ICMR-NIH) and is working on HPV in head and neck tumours in collaboration with McGill University Canada and Albert Einstein College, New York.