Dr. Adam Finn
---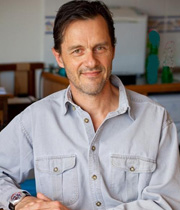 Adam Finn was born in 1959 and brought up on a farm in South East England. He decided aged 16 to study Medicine. He studied Medical Sciences at Jesus College Cambridge, graduating with an MA and studied Clinical Medicine at Magdalen College, Oxford qualifying in 1983.He trained in Paediatrics in Sheffield, Bristol and Guy's Hospital, London and obtained his membership of the Royal College of Physicians (UK) in 1986. He then moved to undertake a fellowship in Stan Plotkin's department at the Children's Hospital of Philadelphia, a period of clinical training but also his first exposure to developmental and clinical vaccines research. In 1988 he moved back to the UK to take up an academic training post as lecturer in Immunology at the Institute of Child Health and Great Ormond Street Hospital for Sick Children in London.
In addition to further clinical training, he undertook a PhD. His project involved studying the mechanisms of neutrophil activation that take place in children undergoing cardiopulmonary bypass for corrective surgery for congenital heart disease, describing and then exploring the release of interleukin 8 (then a newly described cytokine) in this setting both in vivo in children and in in vitro models of bypass.
In 1991 he was appointed to a senior lectureship and honorary consultant position at the University of Sheffield and Sheffield Children's Hospital, UK and he took up this post in 1992. His PhD was submitted in 1993 and awarded in 1994. During his nine years in Sheffield, he established the Sheffield Institute for Vaccine Studies and was involved in running many clinical vaccine trials in children and young adults including the first studies of conjugate pneumococcal vaccine and live trivalent influenza vaccine completed in Europe and five of the pre‐licensure studies for the three meningococcal group C conjugate vaccines licensed in the UK in 1999‐2001. In several of these studies, the Sheffield group was able to describe the mucosal antibody responses to conjugate vaccines which, through induction of herd immunity, have subsequently become recognised as key to their effectiveness.
He also developed a programme of research on the cytokine regulation of the respiratory tract inflammatory response to pneumococcal infection. Building on his experience in his PhD project, with Craig Murdoch and others he initially described induction of IL8 and other chemokines in human epithelial cells in response to stimulation by pneumococcal protein antigens. With Qibo Zhang and others he went on develop a further programme based on these clinical and laboratory studies, examining the mucosal immune responses seen in children to pneumococcal protein antigens developed naturally in response to nasal colonisation.
In 2001, he moved to Bristol to take up the University Chair in Paediatrics. During the subsequent 10 years he has further developed his interest in mucosal immunity to pneumococcus. He has also become a frequent commentator in the media on matters relating to childhood vaccines. He is Director of the South West Medicines for Children Research Network and heads the Bristol Children's Vaccine Centre, a national clinical research network of trials of medicines for children.
Office Address
Dr. Adam Finn
David Baum Professor of Paediatrics, University of Bristol